Team/Contact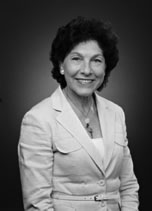 A Secretariat has been established to co-ordinate Collaborations for Health activities. It is led by Director Susan Denburg, who is associate vice-president, academic and associate dean, education for the Faculty of Health Sciences. The secretariat also includes:
Anne Snider, Managing Director, ext. 28658, snidera@mcmaster.ca
She is also Director of Development for the Juravinski Cancer Centre.
Margaret Shkimba, Project Co-ordinator, ext. 22133, shkimba@mcmaster.ca
Faculty of Health Sciences, Rm. 2E14
The Collaborations for Health office is located in HSC-2E5C. For information on how to become involved in this initiative, contact any member of the secretariat.
Leaders of the four themes
Development Across the Lifespan: Parminder Raina and Allison Sekuler
Health and the Environment: Warren Foster and Bruce Newbold
Health Systems: Julia Abelson, Alba DiCenso and Jeremiah Hurley
Knowledge Translation: John Lavis and Anthony Levinson
Advisory Group
The Collaborations for Health initiative is guided by an Advisory Group which includes representatives from all five Faculties and the School of Business, as well as the theme leaders.
For a list of members, click here