Knowledge Translation
McMaster houses the world's only critical mass of researchers committed to supporting efforts to enhance the role of research evidence at all levels of the health system (an area of research known as knowledge translation) – from the general public, patients and clinicians to health system managers, public policymakers and international agencies like the World Health Organization.
Collaborations for Health provides a platform for creating synergies across these research programs, for promoting educational opportunities that connect students with real-world challenges in health systems both at home and abroad, and for responding to the many requests that McMaster researchers receive to help groups and organizations make better use of research evidence.
Who We Are: Theme Leaders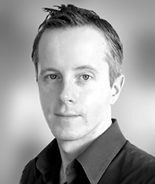 John Lavis
John Lavis is the Canada Research Chair in Knowledge Transfer and Exchange, associate professor in the Department of Clinical Epidemiology and Biostatistics, and a member of CHEPA.
His principal research interests include knowledge transfer and exchange in public policy-making environments and the politics of healthcare systems.
E-mail: lavisj@mcmaster.ca
Website: Click to view
---


Anthony Levinson
Anthony Levinson holds the John R. Evans Chair in Health Sciences Educational Research and Instructional Development, is director of E-learning Innovation in the Undergraduate Medical Program, and assistant professor in the Department of Psychiatry and Behavioural Neurosciences.
E-mail: levinsa@mcmaster.ca
Knowledge Translation at McMaster
McMaster faculty are engaged in a number of KT-related activities. Click on the links below for more information.
News and Events
Knowledge Management in Public Health: Exploring Culture, Content, Process and Technology
November 4, 2008
Sheraton Hamilton Hotel
Hamilton, Ontario
For more information, click here.
In Spring 2007, Collaborations for Heatlh issued a Call for Proposals for seed funding for reseach grants. For a list of successful projects, click here.
Dr. Nelson Sewankambo, a global leader in the fight against HIV/AIDS in Africa, was the speaker at a recent Knowledge Translation and Informatics Rounds. His topic was "Bridging the worlds of research and policy in Kenya, Tanzania and Uganda: The Regional East African Community Health (REACH) Policy Initiative ".
To view a video with more information about REACH Policy, click here.