In Taiwan, medical students often become confused when they first meet the tremendous clinical knowledge of western medicine, mainly because of the language problem and the relatively insufficient time available. On the other side, the teachers have also time pressure and must usually deliver abundant contents of a topic in one or two hours. Therefore, the Taiwanese medical students have developed a tradition of publishing so-called "common notes", which are bilingual (English/Chinese) transcripts of the lectures. The notes are made cooperatively and circulated in paper form among all classmates. Although the lecture notes can save time, their loose structure and layout without adequate indexing, searching, or updating function set a limit to usability along with time. A new format of the Chinese lecture notes with aids of the computer technique has been anticipated for a long time. In answer to the demand, the students at the National Yang-Ming University (Taipei), supported by a grant from its affiliated teaching hospital (the Veterans General Hospital-Taipei), take an initiative in setting up electronic lecture notes. Some technical obstacles exist in preparation of the VGH-YM DigiNote Database System. Although there are some commercial authoring software programs that help convert plain text files into online documentation, they are rarely suitable for amateur students who are not necessarily familiar with computer and internet technology. The team of the DigiNote project elaborates a solution, which includes authoring principles, publishing procedures, web page construction, and organizational coordination.
Materials and Methods
The VGH-YM DigiNote Database System is carried out by medical students of the National Yang-Ming University from December 1997 on. The project starts with digitizing the hand-written lecture notes, where the lectures are almost held by the hospital staff and the notes are bilingually transcribed by the students. The editing process of lecture contents focuses on clearer structure and more consistent layout. Modified "tree-branch" structure is used, so that the readers can realize the context and exact meaning of an article displayed on the computer screen and can smoothly switch between items they are interested in.
The project and personnel is divided into three parts in consideration of workflow and programming ability (Figure 1): (1) Scribing: One lecture is in details transcribed, typed, and rearranged. A keyword file should be supplied along with the content file. No knowledge beyond usual word processing is required. (2) Editing: The procedure focuses on markup. After filing and conversion into HTML (Hypertext Markup Language) format, the files undergo modification of removing superfluous tags with Microsoft FrontPage 98 and labeling the heading titles in hierarchical order (Figure 2). (3) Compiling: A self-written program with Microsoft HTML Help(R) [1,2] as the kernel component is utilized to compile edited files into separate TOC (table of contents) and keyword files with hyperlinks to anchored content files (Figure 3). The relevant files are ported to the Microsoft Internet Information Server and the function of full-text searching with aids of a search engine was added. An offline version with features such as built-in full-text searching will be also supplied.

Fig. 1: Overview of implementation.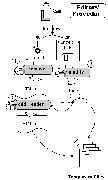 Click to enlarge
Fig. 2: Editing procedure.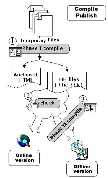 Click to enlarge
Fig. 3: Compiling procedure.

---
Results
In the first year of the project, the lectures of 8 clinical disciplines are digitized. The notes of Nephrology, Urology, Orthopedics and Traumatology, Infection, Allergy / Immunology / Rheumatology, Cardiology, Metabolism / Endocrinology, and Hematology are already available in electronic form in August 1998.. One discipline normally delivers 13 lectures, with 35 hyperlinks in one lecture on the average. The total amount of hyperlinks between all documents reaches up to 4,000.
The DigiNote Database System is accessible at first on the intranets of the university and the hospital and then on the internet ( http://club.ym.edu.tw/project/ and http://www1.vghtpe.gov.tw/diginote/enter.htm ), equipped with a search engine (Figure 4). Another version in form of help files with searching ability was also made for off-line use (Figure 5). The first draft dealt with texts mainly. The majority of the notes had been checked by the lecturers as to its accuracy. Complicated tables, pictures and figures were included sparsely because of technique, manpower and copyright.

Click to enlarge
Fig. 4: A snapshot of DigiNote's online version.


Click to enlarge
Fig. 5: A snapshot of DigiNote's offline version.

An informal inquiry among students, about half of which had their own personal computer, confirmed the DigiNote's popularity. The project will be extended to almost all 32 clinical disciplines in the following 2 years. Besides the digital rendering of traditional teaching contents, other possibilities such as the construction of on-line discussion forums will be tried.
---
Discussion and Conclusion
Well-organized, convenient, and accurate teaching materials facilitate learning and are indispensable in medical education. With computer technology, the traditional teaching way not only has a new face, but also faces a reforming challenge, especially in Taiwan.
The format of the new Microsoft Windows help system not only brings a user-friendly interface, but also encourages more structured lecture contents. Because the lectures are not uniform in their presentation, the feasibility of publishing notes with stricter markup languages such as SGML (Standardized Generalized Markup Language) needs further evaluation. However, in anticipation of recruiting more students into the project under time and money constraints, only well-organized teamwork can enhance automation and guarantee success.
---