Case report
A 70-year-old woman affected by metastatic mammary carcinoma came to our consultation. She had recently developed cutaneous inflammatory metastases on the mastectomy scar and skull bone metastases. Radioterapy was previously performed only on the chest. Two weeks erlier she deloped erythemato-violaceous skin lesions on the scalp with tendency to ulcerate and subsequently crusting and superinfection (Fig1).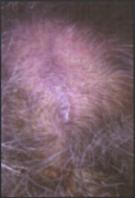 Click to enlarge Fig.1: Clinical picture of the scalp lesions.

Concomitantly soft edema of the left periorbital region was detected. The scalp lesions were extremely painful. A skin biopsy specimen showed: dilated vessels with intraluminal proliferation, composed of fibrin and monomorphous round cells with big basophylic nuclei, no atypia nor mitotic activity (Fig2, Fig3).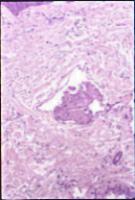 Click to enlarge Fig.2: Haematoxylin-eosin, 10x.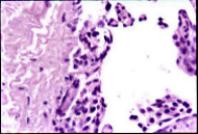 Click to enlarge Fig.3: Haematoxylin-eosin, 40x.

---