"Any man who comes across letters which he wrote many years ago can verify the manner in which his memory has falsified past events." (Bertrand Russell, An Outline of Philosophy, Chap. I)
Providing contemporary, documentary evidence of what really happened is one important value of letters. Bertrand Russell wrote tens of thousands of them. Rather than a burden, his daily post provided him with the excitement of a ready audience before whom he could express his opinions on a host of topics on which he did not write professionally. He rarely kept copies of his replies until his fourth marriage. The Russell Archives have a portion of his letters, probably less than half. Thus almost every letter saved by the recipient, discovered, reported in Russell and added to our catalogue, BRACERS, increases our knowledge of Russell's views on the world or events in his personal life. There must be many hundreds, if not thousands, of Russell's letters awaiting discovery.
The Russell Research Centre, under the direction of Nicholas Griffin, has launched a new project, a scholarly online edition, with annotations and images, called The Collected Letters of Bertrand Russell. It is thus important that as many as possible of Russell's extant letters be located and obtained for the Archives. Two years before he died, Lord Russell authorized (by another letter, of course) McMaster to collect his letters, no matter where they might be. He had already transferred the copyright in his unpublished letters to McMaster.
Letters may be in private hands, already for sale, or in institutions. Their existence may, or may not, be known to some of their owners. Sometimes letters can be located by diligent searching of repositories, whether in person, by mail, or on the Internet. Sometimes letters are offered for sale, and catalogues must be scrutinized. On January 31, 2004, McMaster obtained a previously unknown letter at an Internet auction, with this image provided by the vendor: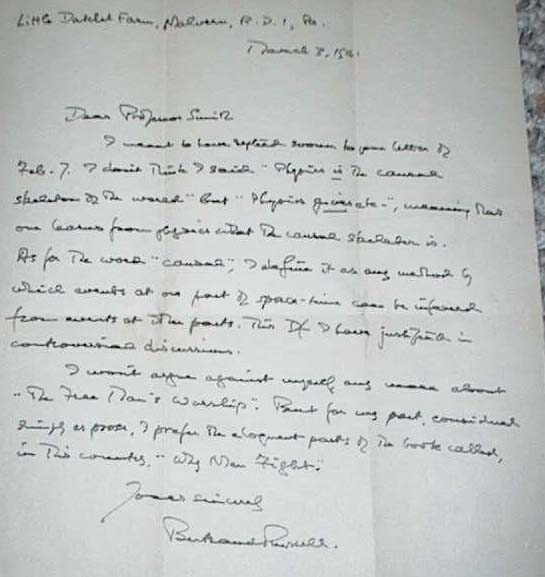 The Russell Archives and Russell Research Centre will be very grateful to hear of letters to or from Bertrand Russell in private hands or in institutions.