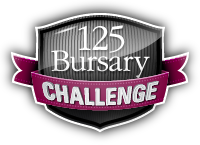 You rose to the challenge and helped us to raise even more than we set out to achieve.
Thanks to you, the 125 Bursary will provide important financial support to many local Hamilton students in their academic pursuits at McMaster.
We have a lot to be proud of; support for the challenge has been overwhelming. More than 700 alumni and friends of McMaster made gifts from around the world, from Hong Kong to the Yukon, Australia to Dubai, Texas to Trinidad & Tobago, and right here at home. Alumni from each consecutive graduating class since 1964 contributed to the challenge, and we even received a gift from a 1943 graduate.
We thank you for an amazing 125th anniversary year and look forward to the success of the next 125!

McMaster University, Downtown Centre, Room 125, 1280 Main St W, Hamilton, ON L8S 4K1
Tel: 905–525–9140x24224 Email: giving@mcmaster.ca